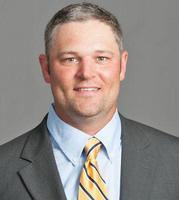 Aaron Lynch
Head Coach
Wilson, NC - The Wilson Tobs Baseball Club is proud to announce Aaron Lynch will be returning as the 2017 Wilson Tobs Head Baseball Coach. This will be Lynch's 3rd year (2nd as head coach) with the Wilson Tobs Baseball Club, as he served as the Associate Head Coach during the 2015 season and Head Coach for the 2016 season. His role in 2015 was focusing on the hitters, infielders and outfielders, which helped see two Tobs voted to the All-Star team (Thacker and Scolamiero). A former coach with the Wilson Tobs in 2015, Lynch becomes the 15th manager in the Tobs' 20 year history within the Coastal Plain League. As Head Coach in 2016, Lynch lead the Tobs to an overall record of 34-25, one of the best overall records in Tobs history. Lynch lead the team to the Conference Championship Game and one win away from the Championship series. The Tobs sent 4 players ot the all-star game and accumulated multiple potential draft worthy players.
Lynch received a Bachelor of Arts degree from Allegheny College in 2013 as a history major. He is from Concord, N.C., and graduated from A. L. Brown High School in Kannapolis, N.C. in 2006.
Currently, Lynch finishes his first season as a volunteer coach at Davidson College. He works primarily with outfielders, but also assists with hitters and infielders as well as helps with gameday and facility operations. In addition to those duties, he serves as the unofficial camp coordinator for the Wildcats.

Lynch came to Davidson after a year's stint down the road at North Carolina A&T, where he served on a volunteer basis as an outfield coach and assisting with hitters and field maintenance.
Before joining the Tobs last summer, Lynch was the infield and hitting coach at the California Institute of Technology. During his time with the Caltech baseball program, Lynch also assisted with recruiting and other day-to-day activities. In two years with the program, Lynch helped Caltech improve in numerous offensive and defensive categories such as batting average, on-base percentage, slugging percentage, hits, doubles, total bases, steals, putouts and assists.
Lynch also spent a year coaching at his alma mater, Allegheny College where he worked with infielders, outfielders and hitters. He helped his team reach the NCAC conference tournament after a second-place finish in the regular season. Lynch played four years at Allegheny College where he started all four years. He played his first two years at shortstop, his junior year at third base before playing first base as a senior. He was a 3-time All-NCAC selection and was voted team captain three times. Lynch finished with a career .332 batting average and a .394 on-base percentage. Lynch led Allegheny in at-bats, hits, runs, total bases, steals and assists throughout his 4 years at the school.
Lynch also served as an assistant coach for the Kannapolis (NC) American Legion Post 115 team and the Saegertown (PA) American Legion Post 205 for two summers per team. His resume also includes being the head coach for the Meadville Gators 12-13u travel baseball for two years.
"I am honored and excited to be coming back to Wilson for another great year of Tobs baseball. My goal is to continue the positive growth of our future Tobs and embed them within the great Wilson community and culture. Coming so close to a Petitt Champsionship really makes you hungry to get one this year. I will work at the highest level to bring this title to the city of Wilson." Newly named Head Coach Aaron Lynch comments.
Contact
patrickaaronlynch@gmail.com
(704) 425 - 7773